Japan's "Solar Sharing" Program Supports Solar Energy Projects on Farmland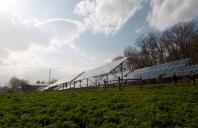 Under a new government policy, Japan can install renewable energy projects on farmland, reports Renewable Energy World. In April, the Ministry of Agriculture, Forestry and Fisheries approved the program, which allows farmers to install photovoltaic (PV) solar systems on existing crop-producing farmland. The new law breaks from previous land-use regulations; under the former Agricultural Land Act, any solar generation on farmland was prohibited, even if the land in question was currently idle.
The new system of co-existence, nicknamed "Solar Sharing" in Japan, was developed by Akira Nagashima. Nagashima, an agricultural machinery engineer, realized that after a certain point, plants become saturated by sunlight; after reaching the "light saturation" level, the rate of photosynthesis plateaus, even if irradiance levels increase. Nagashima wanted to create a PV system to harness the extraneous power from the sunlight. After experimenting with fields of different crops and shading levels, Nagashima devised and patented a solar structure composed of pipes and rows of PV panels. The panels are arranged in intervals with gaps to allow sunlight for photosynthesis.
The solar-sharing program has been praised for creating new incentives to farm. In recent years, Japanese farmers have struggled financially; many small farmers have been forced to get second jobs to supplement their income. The farmers surveyed in the Renewable Energy article expect their PV systems to bring in between $16,000 to $25,000 this year.
Nagashima is a strong proponent for solar-shared farming in the United States, especially for ranches. Besides the clean energy benefit, the PV system would provide shade for cattle or sheep and result in higher soil moisture, thereby reducing irrigation expenses.
The Chanler Group is actively engaged in the review and analysis of incentive-based .renewable energy programs to determine potential benefits to our clients. Global energy consumption continues to increase each year and, with this increase, the demand for safe, clean, and unlimited energy is on the rise. The Federal and State governments promote this interest through a variety of financially-beneficial incentives. Our understanding of these laws allows us to guide homeowners, businesses, and/or developers through the various ways to take advantage of these incentive-based benefits. With the appreciation that renewable energy laws and regulations are constantly changing, The Chanler Group is committed to investing in its understanding and practice of this area of law.
Photo Credit: U.S. Department of Agriculture