New Jersey Rejects $200M Proposed Wind Farm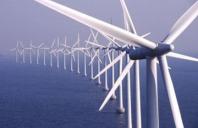 The New Jersey Board of Public Utilities commissioners voted unanimously to reject a 25 megawatt offshore wind project, reported RE News in late March. The project, which has been pending before the agency for three years, would have been based about three miles off the coast of Atlantic City, and was proposed by wind energy developer Fisherman's Energy.
The rejection jeopardizes New Jersey's chances of meeting the targets set in its Energy Master Plan. The Master Plan called for the development of 1,100 megawatts of offshore wind capacity by 2020, which experts now consider increasingly unlikely.
The commissioners' vote aligned with a staff recommendation to reject the five-turbine project because it allegedly did not demonstrate adequate economic benefits and relied too heavily on unsecured federal grants.
Proponents of the plan, including the Atlantic County Freeholders and the Greater Atlantic City Chamber of Commerce, argued that the wind farm would have developed a new industry that could provide hundreds of jobs while creating clean energy.
According to NJ Spotlight, although energy analysts believe that New Jersey could be a leader in developing offshore wind farms due to its relatively shallow waters and high wind speeds along the coast, to date no offshore wind farms have received approval.
Some industry observers speculate that politics may be influencing the state's energy decisions. Governor Chris Christie's support for wind farms has waned in recent years, which critics allege is in anticipation of a 2016 presidential run. State-subsidized offshore wind is not supported by the Republican party's conservative wing.
The Chanler Group is actively engaged in the review and analysis of incentive-based renewable energy programs to determine potential benefits to our clients. Global energy consumption continues to increase each year and, with this increase, the demand for safe, clean, and unlimited energy is on the rise. The Federal and State governments promote this interest through a variety of financially-beneficial incentives. Our understanding of these laws allows us to guide homeowners, businesses, and/or developers through the various ways to take advantage of these incentive-based benefits. With the appreciation that renewable energy laws and regulations are constantly changing, The Chanler Group is committed to investing in its understanding and practice of this area of law.