New Record for Crowdfunding Set by Dutch Turbine Purchase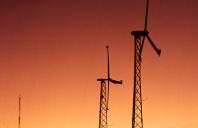 A new world record for crowd funding was set yesterday, when 1,700 Dutch households purchased 6,648 shares in a wind turbine. In just thirteen hours, they collectively raised 1.7 million dollars by purchasing all of the shares for the wind turbine, according to the Renewable Energy World website.
The turbine, which is located in Culemborg, in the center of the Netherlands, will provide these households with sustainable energy for the next twelve years. Each household bought shares or blocks of shares; each share purchased corresponds to around 500 kWh per year. In the Netherlands, the average household energy consumption is 3500kWh per year. According to Windcentrale, the company that facilitated the cooperative wind turbine purchase, homeowners will be able monitor wind speeds and electricity production levels using a smart-phone app.
Since its founding in 2010, Windcentrale has enabled almost 7,000 Dutch to purchase shares in wind turbines. Windcentrale buys old wind turbines from energy companies and establishes cooperatives for each turbine. Windcentrale then forges contracts with the turbine companies so that the wind-sharers work directly with the turbine company to ensure their investment operates smoothly. According to co-founder Harm Reitsma, when Windcentrale began selling shares in 2012 for two wind turbines in the northern Netherlands, it took four and a half months to find 5,200 households to buy 20,000 shares. In contrast, this wind turbine was completely funded in a matter of hours.
Reitsma attributes the success of his company to the growing demand for renewable energy. "We think it's because many people want to do something good, help the environment, and at the same time save money," Reitsma explained. "It's the best of both words for many people. Until now, if you wanted to 'be green,' it was a lot more expensive."
Given current electricity rates, the wind-sharer households will generate lower electricity costs than traditional Dutch energy consumers. Moreover, experts predict electricity costs are likely to rise, meaning the wind-sharers will receive significant annual cost savings.
The Chanler Group is actively engaged in the review and analysis of incentive-based renewable energy programs to determine potential benefits to our clients. Global energy consumption continues to increase each year and, with this increase, the demand for safe, clean, and unlimited energy is on the rise. The Federal and State governments promote this interest through a variety of financially-beneficial incentives. Our understanding of these laws allows us to guide homeowners, businesses, and/or developers through the various ways to take advantage of these incentive-based benefits. With the appreciation that renewable energy laws and regulations are constantly changing, The Chanler Group is committed to investing in its understanding and practice of this area of law.