Decorated Soda Bottles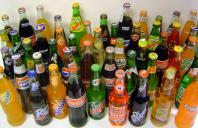 Beginning in 2001, Whitney R. Leeman, Ph.D., represented by The Chanler Group, commissioned an investigation into glass soda bottles with exterior decorations, suspecting they might contain the toxic chemicals lead and cadmium. The Chanler Group conducted a thorough industry-wide investigation and uncovered a vast amount of glass-bottled sodas that exposed costumers to these known reproductive toxins without warning. Following The Chanler Group's extensive investigation, Dr. Leeman alleged that millions of soda bottles containing high levels of lead in the exterior design and, in some cases, in the beverage itself, were being sold in the State of California.
As a neurotoxin, lead is a heavy metal that, at elevated levels, has been shown to negatively affect the nervous system, and especially children's brains. Research has shown that repeated exposure to lead cumulatively affects the developing nervous system and, over time, can lead to attention deficit, learning disabilities, short-term memory loss, behavioral problems, and diminished intellectual ability.
For example, Dr. Leeman alleged that Mexican-manufactured, glass-bottled Coca-Cola contained lead in the exterior decorations of the bottle and, as a result, any person handling a bottle was exposed to a significant amount of lead from hand-to-mouth transfer. Dr. Leeman's 60-Day Notice also alleged that the beverage itself contained lead.
Through our all-encompassing investigation of these products, our clients uncovered these violations and brought them to the attention of the California Attorney General, the Los Angeles City Attorney's office, and other public offices. The Attorney General took the lead in the case, utilized Dr. Leeman as a consultant, assimilated thousands of pages of our client's laboratory results and investigation materials, and consulted with our experts during their prosecution of these matters. These efforts resulted in a Consent Judgment in the public interest that set forth a detailed plan for the reformulation of Coca-Cola's products bottled abroad.
Dr. Leeman spearheaded similar enforcement efforts with public prosecutors against other soda giants including PepsiCo, Inc.; Dr. Pepper/Seven Up, Inc.; and Cadbury Schweppes Americas Beverages. Under the various settlements, the soft drink companies agreed to alter their production of soda bottles to include lead-free labels on all new bottles produced in Mexico. Additionally, they agreed to eliminate existing lead-painted bottles for Mexican sodas within certain time frames.
These settlements resulted in over $13.5 million in combined civil penalties, portions of which were waived to incentivize the settlement defendants to meet aggressive reformulation and phase-out targets. Additional injunctive relief was required. For example, PepsiCo agreed to pay $500,000 to fund surveillance activities to keep old Mexican Pepsi bottles out of California, as well as fund voluntary independent environmental audits of small Mexican food companies that export products to the United States, projects to eliminate lead from food products, including candy, and education and outreach programs on mitigating exposure to lead.
Our clients' commitment to thorough investigation and analysis led to a historic reformulation of the soda industry. These matters highlight our clients' willingness to assert the public's right to know about toxic exposures from consumer goods, even against some of the world's largest companies.
To review legal agreements which The Chanler Group's clients have reached with companies that sell decorated glass bottles, please see the cases below.
firm casework - enforcement